Texts of Morris or Goscinny, drawings of Morris
Lucky Luke

© Lucky Productions
Traversing vast the wide savages of the American West on his faithful dispach rider Jolly Jumper, Lucky Luke, the " poor lonesome long cow-boy " always " long way from home " (in english in text), is perpetually in the train of cavaler behind some desperados (4, for example) escaped prisoners of a federal penitentiary. With his intelligence (with rather the silly thing of the fuyards), his horse, his speed with the weapons and his chance, the gangsters return quickly behind the bars. A head of work of the Comic strip by Morris and Goscinny.
Characters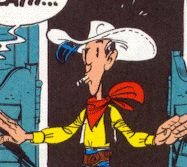 © Lucky Productions
Lucky Luke : With the time cow-boy and dispenser of justice, the man who draws more quickly than his shade traverses Texas, New Mexico... in search of adventures, living seasonal odd jobs such the "round-up". The government often calls upon his diplomacy and his speed to be decladded, so that he puts a term at a conflict with the Indians or quite simply so that he catches up with Dalton, again escaped prisoners.

© Lucky Productions
Jolly Jumper : The fastest nag and most intelligent on this side of Rio Grande is the faithful friend of the solitary cow-boy. Jolly is also a horse erudite, able to speak, count, write, etc... He mistakes Rantanplan who he regards as an under-animal.

© Lucky Productions
Rantanplan (who owes its name in famous Rintintin) : Called " the stupidest dog and more sympathetic nerve of the west " by Lucky Luke, " error of nature " or of stupid animal " of the point of truffle to the point of the tail " by Jolly Jumper, Rantanplan is without any doubt a single dog in his kind. Particularly stupid but very affectionate, he appears no physiognomist, hunter poor and as sharp as lazy.
The gangsters in Lucky Luke have all really existed or are inspired desperados having existed :

© Lucky Productions
Joe Dalton : When Joe Dalton, of bad and coleric nature, becomes too much irritated, only Jack and William or well ten federal guards then manage to resound it. Being the brain of the family, he is always at the origin of the crimes committed by Dalton. His hatred of Lucky Luke will often lead he to be avenged for the cow-boy who brings back them under the bolts to each escape, but never he did not reach that point.

© Lucky Productions
Averell Dalton : Largest with Dalton is endowed with a quickness of mind worthy of Rantanplan. With the image of this dog, he is large amateur of food in all kinds which he claims by his famous counterpart: "When one eats?" His stupidity ruins much plans establish by Joe, which irritates much this last.

© Lucky Productions
Jack and William Dalton : Only the difference in size makes it possible to differentiate the two Dalton brothers. Of the 4 gangsters they are most moderate, most realistic. Be the image their height, their character is a happy medium between Joe and Averell.

© Lucky Productions
Billy the Kid (William H. Bonney) : Billy the Kid is a "kid" (according to Lucky Luke) of capricious nature. Thanks to his ability with the six-blows, he can satisfy its least desires, with depend on the populations who he terrorizes. In reality, Billy the Kid was killed by Pat Garrett, in the fiction he was condemned and escorted in prison by Lucky Luke.

© Lucky Productions
Let us quote also Calamity Jane, Jesse James and Mum Dalton
Gallery of images
© Lucky Productions
Lucky Luke :Jolly Jumper : Rantanplan : Dalton :